We are very happy to report a second successful year of Maker Camp in Palm Beach! In 2013, Palm Beach LED held the first and only Maker Camp in Florida and nearly in the entire Southeastern United States. In 2014, there was an explosion of Maker Camps across the state, and we were thrilled to see such an increase in local Maker activity!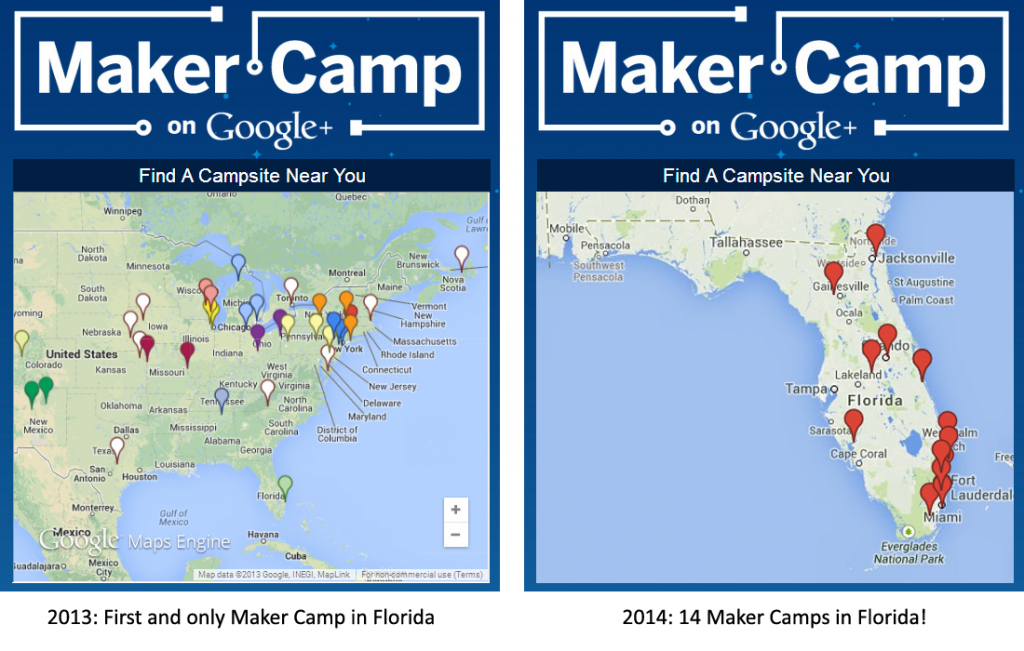 For the 2014 Maker Camp, we partnered with the South Florida Science Center and Aquarium, who graciously offered use of their facility, provided camp supplies and volunteers. In addition to the Science Center, this year's Maker Camp was made possible by a number of generous groups who donated their time, energy and supplies:
Following the successful schedule from last year, we ran a summer Maker Camp for over twenty local school children ranging in age from 10-14. Each week of camp built on the previous week starting from basic electronic components and ending up with 3D printers and autonomous robotic vehicles. This year's camp consisted of the following topics:
Week 1 – Introduction to soldering & electronics
The first week of Maker Camp introduced campers to basic electronic components, tools and safety procedures. Campers used soldering irons to assemble siren LED circuit boards and LED flashlight kits.
Week 2 – Introduction to microcontrollers & programming
During the second week of Maker Camp, attendees were introduced to the basics of programming and microcontrollers. Activities were based on the Parallax Basic Stamp kits with LEDs, speakers, motors and 7 segment displays. Campers were also introduced to more advanced microcontroller projects including the Makey Makey and to the Arduino based Starbot animatronic head.
Week 3 – Introduction to robotics with LEGO Mindstorms
During the third week of Maker Camp, campers built self-driving robot cars which were able to navigate courses and interact with their environments. All of the robotic projects were built using LEGO Mindstorms kits, completely built and assembled by campers. During the robot workshop, we were visited by the Palm Beach Post and Make highlighted us as one of their affiliate sites of the day during the third week of camp!
2014 Maker Camp – Introduction to robotics from Pierre Baillargeon on Vimeo.
RT @PalmBeachLED: Very excited that @make selected us as a #MakerCamp affiliate of the day yesterday! pic.twitter.com/NgOtnJ29wP

— Maker Camp (@MakerCamp) July 23, 2014
Week 4 – Introduction to 3D printing
During the fourth and final week, campers were introduced to web based CAD design and 3D modeling using TinkerCAD. They were then able to print their models on a variety of 3D printers and also able to use a 3Doodler 3D printing pen at a crafts table where they turned their 3D printed objects into necklaces, earrings and more. After completing the fourth week of Maker Camp, we also received more positive feedback from Make on Twitter!
@PalmBeachLED @SFScienceCenter Looks FANTASTIC!

— Maker Camp (@MakerCamp) August 5, 2014