Sure, I know what you're thinking: "Pierre, the STS-129 NASA tweetup was EIGHT months ago and you're just posting about it now?!"
What can I say. The Ku-Band antenna on my computer was down… It takes a while for blog posts to reach the internet from the edge of the galaxy! Anyhow, the point of this post is to kick-off the revival of this blog, to create a public record of my experience on that weekend in November of 2009 and to commemorate what may have just been the final flight of Atlantis with STS-132. The story starts at some point in 2008 when I found out NASA was using Twitter to post updates from the Mars Phoenix lander under the @MarsPhoenix account. At that time, NASA was using the account to share information about the mission including pictures, like the one below, as they came back from the lander.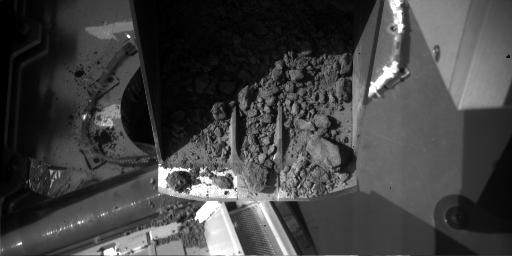 Mars Phoenix Robotic Arm Photo credit: NASA/JPL-Caltech/University of Arizona/Max Planck Institute
When you consider the huge amount of media and information generated by a variety of NASA missions which never makes the major news outlets, this was a great way to make the information available to people who were really interested in keeping current.
Following the @MarsPhoenix account led to following a variety of other NASA twitter accounts including the official NASA twitter account (@NASA), the official NASATweetup account (@nasatweetup), and the first astronaut to tweet from space: Mike Massimino (@Astro_Mike). Long story short, NASA extended an invitation to 100 twitter followers to attend the official tweetup for the STS-129 launch of OV-104 (Space Shuttle Atlantis) and I was selected.
The tweetup was a two day event which consisted of presentations by NASA employees, a tour of the Kennedy Space Center which included a stop outside Pad 39A and …something else…… Oh, yea. A friggin' space shuttle launch! The first day was kicked off with talks by John Yembrick (@yembrick) from NASA public affairs, NASA-JPL news manager Veronica McGregor (@VeronicaMcG), NASA orbiter engineering manager Jon Cowart (@rocky_sci), former NASA flight director Wayne Hale (@waynehale), STS-125 Mission Specialist Mike Massimino (@Astro_Mike) and former CNN anchor Miles O'Brien (@milesobrien). Instead of rambling on about how cool it was to hear Jon Cowart describe what shuttle 'twang was or how Veronica McGregor chose the geekiest possible final tweet for the Mars Phoenix lander, I'm going to recommend you watch the proceedings which are available in three parts on YouTube:
STS-129 NASA Tweetup – part 1 of 3
STS-129 NASA Tweetup – part 2 of 3
STS-129 NASA Tweetup – part 3 of 3
After the presentations concluded, we loaded onto buses which were bound for Pad 39A. It is not easy to describe how exciting it was to stand that close to a vehicle that was about to take humans into space. Luckily, we were given time to admire the orbiter and take pictures, so I'll let the pictures speak for themselves:
The pad tour concluded day 1 of the tweetup. Day 2 commenced when we arrived at an off-site location to board buses headed to the press site. The press site had a twitter tent setup (twent?) with more people to talk to the group about closeout procedures, ISS gyroscopes and miscellaneous parts (hold-down bolts and nuts, foam, etc.) which were on display inside the tent.
After a few presentations, we heard that the Astrovan would be stopping in front of the VAB, so we all ran to the adjacent road to whoop, hollar and cheer the astronauts on.
A short while later, we heard the final polling and that all systems were go for launch. It was time to head to the countdown clock where we could see Atlantis sitting just past the trees in the distance….
…..and the countdown closed in on the moment………4….3….2….1…..

LIFTOFF!
And with that, Atlantis was off. Thanks again to everyone at NASA for all that you do and providing the tweetup folks with a once in a lifetime opportunity. You can be sure that everyone who attended will continue sharing our experiences and enthusiasm with our friends, family and colleagues.

Photo Credit: (NASA/Carla Cioffi)
Looking for more info about the STS-129 NASATweetup? Check out the following sites:
STS-129 NASA Tweetup Flickr Group – http://www.flickr.com/groups/nasatweetup/pool/
Space Tweep Society – http://www.spacetweepsociety.com/
Shannon Moore's blog post (@Ageekmom) – http://geekhabitat.com/2021/nascent-nasa-tweetup-blog-post-im-cheating/
Scott Beale's (@laughingsquid) blog post – http://laughingsquid.com/nasa-tweetup-at-kennedy-space-center-for-launch-of-space-shuttle-atlantis-sts-129/
Stuart Gleave's (@the_defiance) blog posts – http://www.stuartgleave.com/blog/?p=439 and http://www.stuartgleave.com/blog/?p=376
Keith Barrett's (@KeithBarrett) blog post – http://keithbarrett.com/blog/nasa-sts-129-shuttle-launch-tweetup-the-impact/
David Allen's (@DaveFlys) blog post – http://www.daveflys.com/news/events/sts-129-nasa-tweet-up/
Rob Wilson's (@RoBOotc) blog post – http://www.outofthecradle.net/archives/2010/05/space-shuttle-launch-nasatweetups-past-and-present/
Beth Beck's (@BethBeck) blog post – http://bethbeck.wordpress.com/2009/11/16/space-tweeps-flying-high/
No tips yet.
Be the first to tip!
Like this post? Leave a Bitcoin tip!
1PzvvRGcQcbZkCbvvQGTTeNxF6DpoRrjBn
If you enjoyed reading this post you can leave a Bitcoin tip to say thanks! Each post gets its own unique Bitcoin address so by tipping you're not only making my continued efforts possible but telling me what you liked.