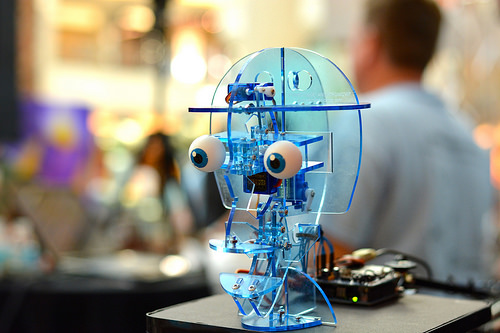 My adventure with StarBots started in 2012 when I visited the first Orlando Mini Maker Faire and saw Pat Starace's fantastic animatronic creations on display. The singing display was very impressive and was easily one of my favorite displays at the event. Luckily, Pat has branched out into making animatronic kits after a very successful Kickstarter and I'm happy to say that the kit is quite a lot of fun.
The StarBot kit is controlled simply enough by a Sparkfun Joystick Shield. This shield allows the eyes and mouth to be controlled in real time and also allows a sequence of controls to be recorded and played back afterwards. This was all great, but I wanted a way to programmatically trigger audio playback and have a way to synchronize movement of the eyes and mouth with the audio. After a bit of research, I decided to use the Adafruit Wave Shield for Arduino to accomplish this and it worked quite well. Continue reading…
1 tip so far
0.001 BTC
Like this post? Leave a Bitcoin tip!
1PYcWYgRznTjLLpGAmLawtwMLMdVNJnb76
If you enjoyed reading this post you can leave a Bitcoin tip to say thanks! Each post gets its own unique Bitcoin address so by tipping you're not only making my continued efforts possible but telling me what you liked.